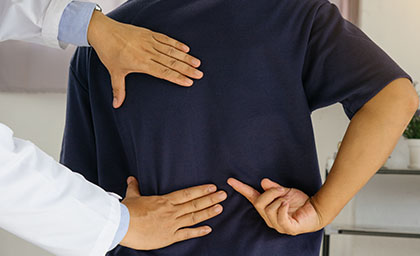 Leg or back pain caused by degenerative disc disease can be chronic and debilitating, often going on for years before a proper treatment is found to provide more long-lasting relief. This type of pain can make carrying out everyday tasks such as walking, sitting, or working difficult, leading to a lower quality of life for all those suffering from it.
About Minimally Invasive Posterior Lumbar Interbody Fusion
In degenerative disc disease, the diseased disc impacts the surrounding nerves, creating instability in the spine because of the lack of support for the vertebrae above and below the disc. The PLIF procedure stabilizes the spine by fusing the vertebrae together with bone graft material, relieving the pressure and helping ease the pain.


The surgeon will access the damaged disc through an incision in the back, partially removing parts of the disc to relieve the pain, leaving behind part of the disc wall to help contain bone graft material. Bone grafts are placed to re-align the vertebral bones, releasing any pressure that had been experienced due to the damaged discs. The bone grafts will grow through and around implants, creating a bone bridge and fusing the vertebrae.


Our minimally invasive surgeries result in shorter recovery times to get you back on your feet. A high accuracy rate in diagnosing and fixing the problem is just one reason we have such a high patient recommendation rate. Contact us today to learn more about the PLIF and if it could be the right solution for you.