Craniectomy for Chiari Malformation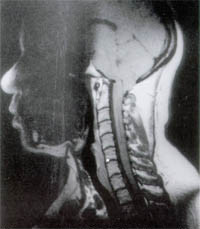 The chiari malformation surgery is used to treat an abnormality that results in a part of the brain extending into the upper spinal canal.
At Axis Brian & Back Institute, we understand and can help the pain that you are going through. We specialize in minimally invasive spine surgery which is specially constructed to treat spine conditions with a lower infection risk and shorter recovery times than more traditional open back and open neck surgeries. Our patients will attest that we have helped provide solutions after years of chronic pain that took away their ability to perform even basic functions every day.
About Minimally Invasive Anterior Cervical Discectomy and Fusion
During the procedure, small sections of bone are removed from the rear of the skull and spine to create more space for the errant brain tissue. The patient is anesthetized and a portion of the scalp is shaved. The patient's head is secured to prevent movement.
The surgeon creates an incision in the back of the head extending down to the upper neck in the midline. The soft tissue and upper neck muscles are pulled back to expose the skull and first vertebra. Using a high-speed drill with a cutting burr, the surgeon removes a section of bone at the base of the skull to create more space for the brain. This is called a craniectomy. Then, the surgeon removes the back arch of the C1 vertebra. This is known as a laminectomy. Depending on the level of abnormality, lamina from one or more vertebrae may need to be removed.
Frequent Symptoms Helped by Anterior Cervical Discectomy and Fusion

Though herniated discs and degenerative disc disease cause symptoms which can change depending on the severity of the condition, there are some general symptoms that often see relief from this procedure.
– Numbness and tingling – Often, patients are experiencing numbness or tingling in the arm and fingers due to the impacted nerve in the neck. This could be similar to what it feels like to lose circulation to the arm.
– Arm pain – The nerve which is affected by the damaged disc often leads to a shooting pain in one arm. This pain can travel all the way from the shoulder down through the fingers. Often, this is accompanied by a pain in the neck along with the radiating pain the arm.
– Weakness – It is possible that the affected nerve is not able to signal the muscles in the arm the way it normally would, causing a general feeling of weakness.
If you are experiencing chronic neck pain and/or any of the symptoms listed above, contact our team at Axis Brain & Back Institute and get BACK@IT. You don't have to miss out on life's greatest moments because of pain. Schedule your free MRI review today!