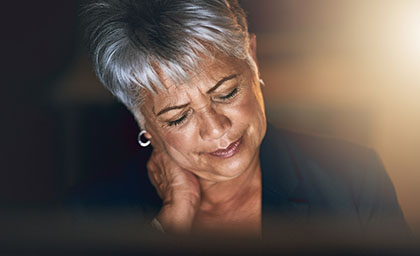 Understanding herniated disc disease and treatment options. Herniated discs are a common condition that usually affects middle-aged to elderly patients. When the herniation occurs in the cervical spine, people can experience upper body discomfort, weakness, and pain that can affect day to day activities.
A herniated disc is a condition where an intervertebral disc has been injured and the contents of the disc protrude into the spinal canal or surrounding areas. When the condition is diagnosed as being in the neck region, it is called a herniated cervical disc. With a herniated cervical disc, the ruptured disc presses against an adjacent nerve root and causes pain and discomfort in the patient.
A herniated cervical disc usually develops in patients between 30-50 years of age as it is often caused by age-related wear from disc degeneration. Gradually, all people lose some of the water content in their spinal discs, which creates rigidity and proneness to disk tearing from minor injuries. The condition can be caused by trauma to the neck but the condition can also occur without trauma.
Sometimes, herniated cervical discs occur suddenly and spontaneously through injury, though weight, occupation, and genetics can also come into play as risk factors for the condition.
What are the herniated disc symptoms?
The symptoms of a ruptured disc in the neck can affect the neck, shoulders, arms, hands, and fingers, making it sometimes overwhelming to deal with for patients. When symptoms have expanded into the arms and hands, it is advised that a patient seek medical attention as soon as possible to prevent further complications. Ruptured disc pain symptoms and complications largely depend on the location of the herniated disc.


The spinal column is divided into seven segments and the disc location is defined by the two cervical bones it falls between. This also determines the nerve affected by herniation, and thus, what other locations are also affected by it. In the instance the herniated disc falls between bones 'C3' and 'C2', the nerve root affected by the ruptured disc pain symptoms will be C3. Symptoms of a ruptured disc in the neck can include pain, muscle weakness, numbness and tingling, which can affect motor skills and strength depending on the location of the herniated disc and the severity of the condition.


Treatment options vary depending on the variables of the condition. Non-surgical treatment through medication and other techniques are often adequate to manage pain and symptoms for patients.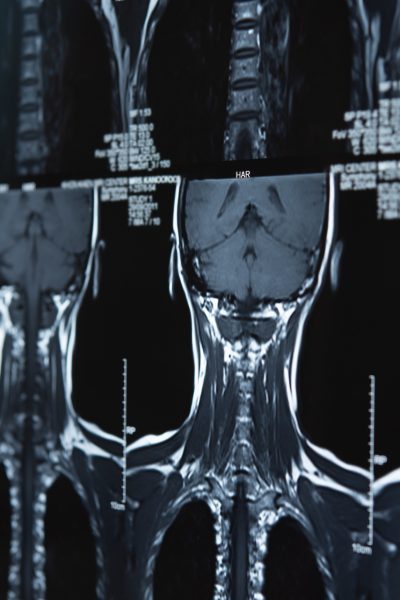 Herniated Disc Treatment Options
Medication – Initial treatment for pain related to herniated cervical discs usually consists of anti-inflammatory medications such as ibuprofen to reduce pain. By using anti-inflammatories, you can reduce the inflammation of the nerve caused by the herniation or stenosis. Oral steroids can also be administered to patients suffering from severe pain but only for a week's time. Narcotics and muscle relaxants might also be a resort for those with more severe pain but are just temporary solutions. Epidural steroid injections may be another medication course for patients with severe symptoms, as well, and are most effective when coupled with rehabilitation programs.
Physical Therapy – Physical therapy and exercise can help to reduce pain in the arms and control muscle spasms.
Chiropractic Manipulation– Low-velocity manipulation, referred to as mobilization, is a type of gentle manipulation chiropractic professionals can employ to help reduce the joint dysfunction in the neck that can affect pain levels. It is advised to only seek out these gentler manipulations as more stressful manipulations may exacerbate symptoms.
Osteopathic manipulation – Gentle osteopathic manipulation can also help to restore joint motion and reduce pain.
Traction – As a method for reducing pressure put on the nerve, some patients resort to traction on the head, though it is not universally successful. Patients who utilize this with success under medical guidance can use a traction device for treatment at home later on.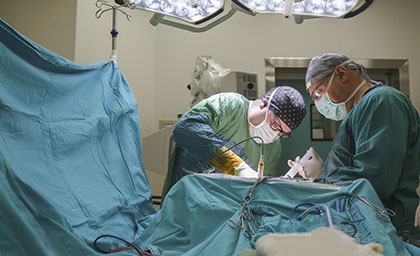 When is surgery needed for a herniated disc?
Often times, symptoms for this condition will subside in a few months at most, but there are times when the symptoms of a ruptured disc will persist well beyond a 12-week mark. When this occurs, or when pain is so severe it disrupts daily life, surgery might be necessary.
If traditional methods of treating herniated disc issues, such as physical therapy or pain alleviation techniques, do not work or have not given you the relief you need, then our minimally invasive surgical procedure may be an alternative for you. First, you will need to speak to your doctor about the issues concerning your herniated disc and see which surgery is needed. Sometimes, it's necessary to speak to more than one spine specialist to receive enough information before taking the next step. All surgical procedures differ, depending on the area requiring the attention, and the severity of the injury.
At Axis Brain and Back, we offer a range of less invasive treatment options for herniated disc-related injuries that have been shown to minimize incisions from surgery and lead to quicker recovery time. Compared to the traditional open back surgeries, satisfaction rates for all our patients are much higher because of its effectiveness, safety, and consistency. This, in turn, has allowed our minimally invasive surgical procedures to be a preferred method among our patients.
We understand the frustration of enduring neck and shoulder pain caused by herniated disc disease, our team has extensive experience and interest in helping you get your life back together. Schedule a consultation today by submitting an online request, or give us a call at (817) 502-7411. Your road to recovery is a short one with care from Axis Brain and Back.